The Ultimate Audiopipe Experience
At Audiopipe we are always enhancing and expanding the capabilities of our car audio products. Our products allow our customers the ability to create an exceptional music experience tailored to their tastes and audio system goals. When it comes to performance, quality, and design our Dealer Line Series of subwoofers and amplifiers break the mold. We can easily say that this collection of products is beyond compare to anything else we have ever produced.
How It Works
There's nothing like walking into your nearest car audio retailer and speaking directly to a sales representative to get further information or recommendations about a product. The products in our Dealer Line were made specifically with our customers and these Audiopipe authorized dealers in mind, and therefor are sold exclusively at these brick-and-mortar stores. With so many unreliable and impersonal online retailers we wanted to create an avenue for purchasing these exclusive products that our customers could depend and rely on, so you won't find any of our Dealer Line models available online. 
If you are not sure if your nearest Audiopipe dealer carries our Dealer Line you can always check the Dealer Locator here on our website. Dealers participating in our Dealer Line program will be indicated with the Dealer Line Logo.
APDLO Series
The technology and features that we included into this line of amplifiers set them apart from all of the other amplifiers that we offer. We designed them with the same classic Audiopipe style but modified them with modern sharp edges, gun metal hexagon mesh, and cut outs for added ventilation and cooling. We equipped these amplifiers with the fastest and most dependable MOSFET's to date. These MOSFET's have a lower internal resistance, producing more power output while generating less heat, and greatly reducing the chance of thermal runway and avoiding decreased performance of the internal components. We also added an oversized, double-dipped toroid, ensuring durability and enhancing the power while maintaining its small footprint.
TXX-BDD Series
The TXX-BDD Dealer Line subwoofer series focuses on providing customers with a high-quality, reliable, and powerful subwoofer capable of outperforming the best subwoofers in the market. Considered to be a performance subwoofer line as quality, durability and attraction are their strengths. We took extra precaution when designing these subwoofers to ensure that they could withstand any abuse while performing at an optimum sound quality level. Quad stitched surrounds, upgraded fiberglass cone cap, and an XL foam edge were just a few of the features we added to make these subs our most robust and superior subwoofer models to date.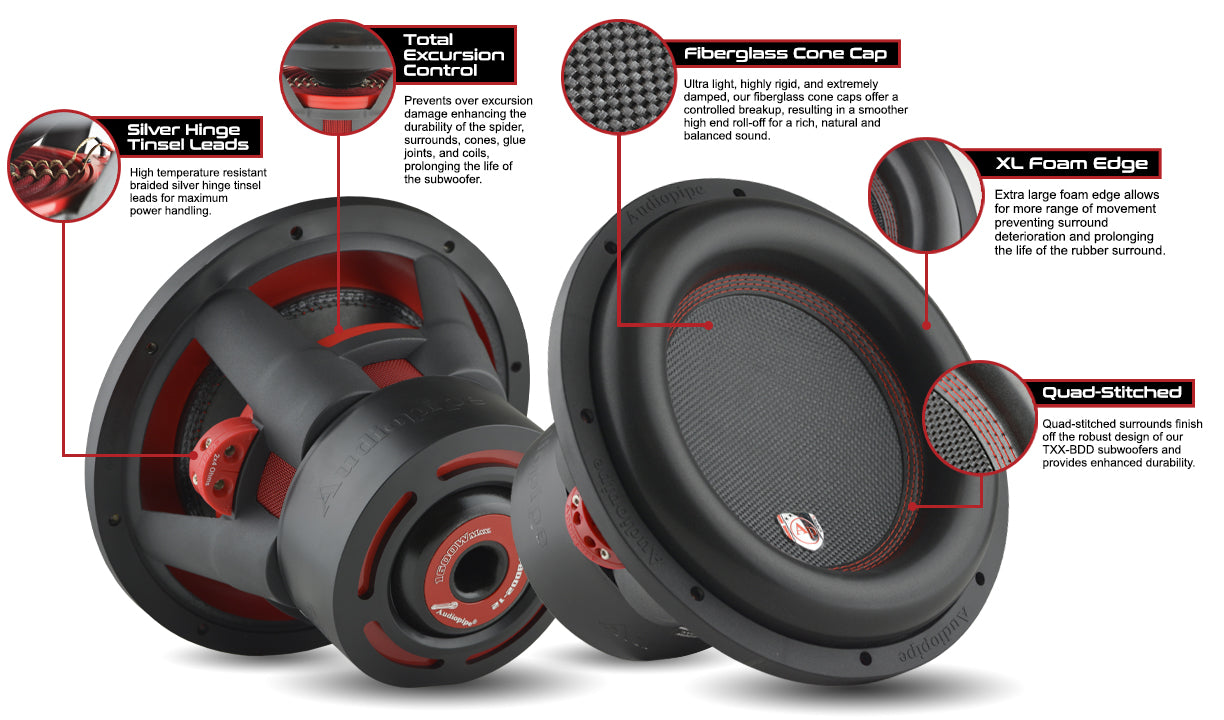 One Year Warranty Extension
As if buying an exclusive and highly performing car audio product wasn't awesome enough, another perk that comes with buying any product from our Dealer Line is the complementary additional one-year warranty. A one-year warranty extension is available when your unit is purchased, installed, and registered by an Audiopipe authorized dealer. Having your dealer line product purchased, installed, and registered by an Audiopipe authorized dealer ensures that your equipment will function at its highest potential performance. The additional one year of warranty coverage you receive along with the Audiopipe certified authorized dealer installation maximizes the quality and durability of your audio system.